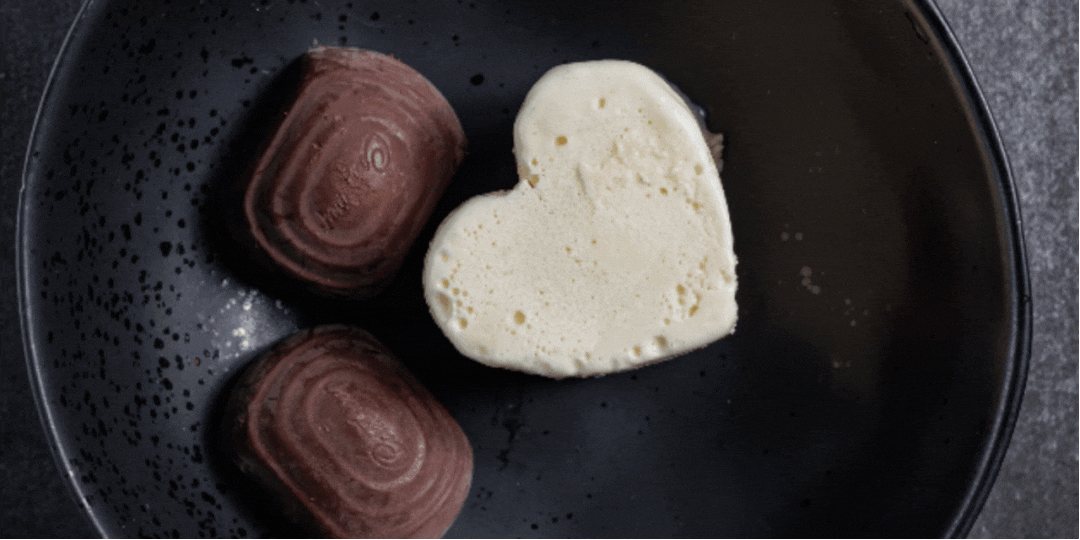 Love This Dessert Hack!
This is a quick and easy dessert and looks super impressive for a birthday party, dinner party or any celebration. 
Simply soften ice cream and spoon it into the heart ice mould. 
Put the mould into the freezer to set the ice cream very hard.
When you're ready to serve, carefully unmould each ice cream heart and drizzle with melted chocolate [berry coulis and fresh berries would be fabulous too.] 
Ya welcome. 


We LOVE love and even if Valentine's Day isn't your thang there are lots of ways to show your love, any time of year. Here's some inspo if you're looking to amp up your love language using our DrinksPlinks

 
Love Heart Tray
.
Love You Baby
Adding a DrinksPlink heart ice shape to a Baby Pink G&T is a beautiful way to celebrate.
Roses Are Red 
Freeze rose petals or actual roses in our heart shaped ice mould.  These look incredible in a cocktail or zero alch drink. Very glam!
Perfect for a girls night in, hens party, or date night.
Crayons For The Kids 
Get crafty with DrinksPlinks ice trays and use them as moulds for crayons.

It's a fun way to use up old and broken crayons and give them a new life. 

Kids love this activity but adult supervision is required.
Preheat the oven to 120 C or 250 F

Peel any paper from the crayons (soak them in warm water for about 15 minutes if those crayon papers are stubborn)

Put the broken crayons into the DrinksPinks ice tray. It's ok to overfill the moulds 

Place the ice tray on a baking sheet and put it into the oven

Bake for 10 - 12 minutes or until the crayons melt

Carefully take them out of the oven (The melted crayons will be

very

hot and liquid) 

Let them cool and set (This could take 20-30 mins or more depending on the thickness of your crayons. The kids will need to be patient.)

Once they're completely cool, carefully push your new crayons out of the mould

Get drawing!


Love At First Bite
Who can resist a love heart brownie? [Not us]

DrinksPlinks ice moulds are made from food-grade silicone which means they're safe for baking up to 220 C | 428 F

Brownies are easy to whip up using your favourite recipe or packet mix.

Follow our top tips and you won't be disappointed:
Fill your mould ½ - ¾ full 

Don't overcook your brownies 

If they've risen higher than the mould, no drama. Use a serrated knife to level off the brownies after they're out of the oven

Let the brownies cool in the ice tray for a few minutes 

Put the ice mould with the cooked brownies into the freezer for at least an hour

(please don't skip this step!) 

Take the brownies out of the freezer and carefully unmould 

Let the brownies thaw

Dust with icing sugar 

Devour with delight 
---